Once that you launch OT-BASE Asset Discovery, you need to authenticate using a logon dialog. When you log on for the first time, use the default credentials that you have received by email.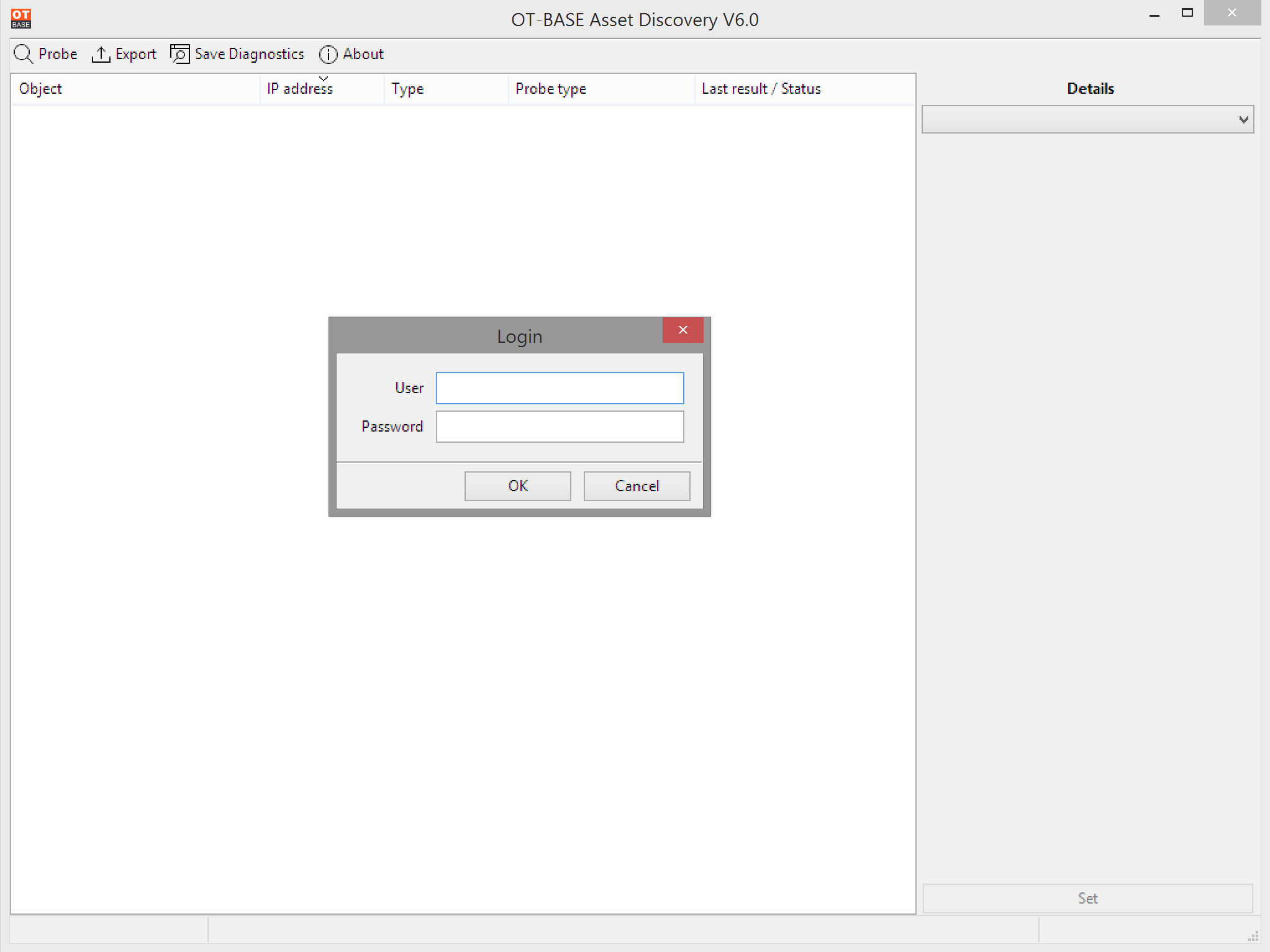 After successful logon, you will see two vertical areas, the discovery table (left) and the details pane (right). The discovery table shows the results of your asset discovery. You can select any entry in the table by left-click in order to inspect it in more detail, and in some cases to edit details, in the details pane.
Basic structure of the discovery table
Entries in the discovery table are hierarchical.
The first (root) entry in the tree structure represents your Asset Discovery server, for which you can change configuration settings in the details pane.
The entries on the next (lower) layer represent network interfaces that you can use to discover assets. You can extend those network objects by adding remote networks. If you select any of the networks objects, you can configure settings for that network in the details pane.
Entries on the third layer -- that you will most likely not see when first logging on -- represent devices. You can change device settings by selecting one or more devices and then make the desired changes in the details pane.
For automation systems, you may be able to drill further down (forth layer) in order to inspect the modules on the backplane(s).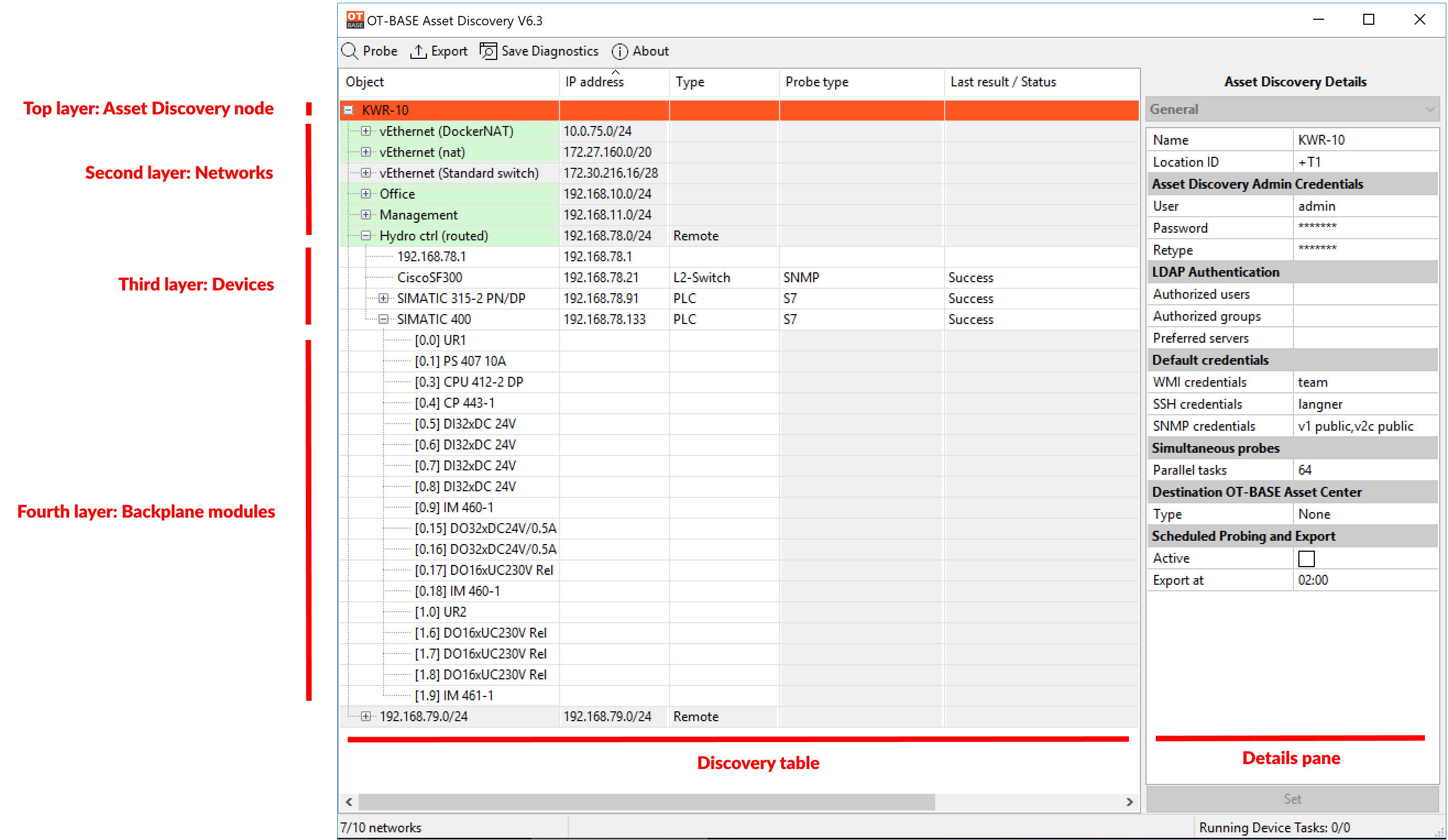 Additional options in the discovery table
You can sort entries in the discovery table by clicking on the column headers. Clicking on a column header for another time will reverse sorting order.
Right-clicking on an entry will pop up a context menu that allows you to perform various actions such as probing a particular network or particular device only.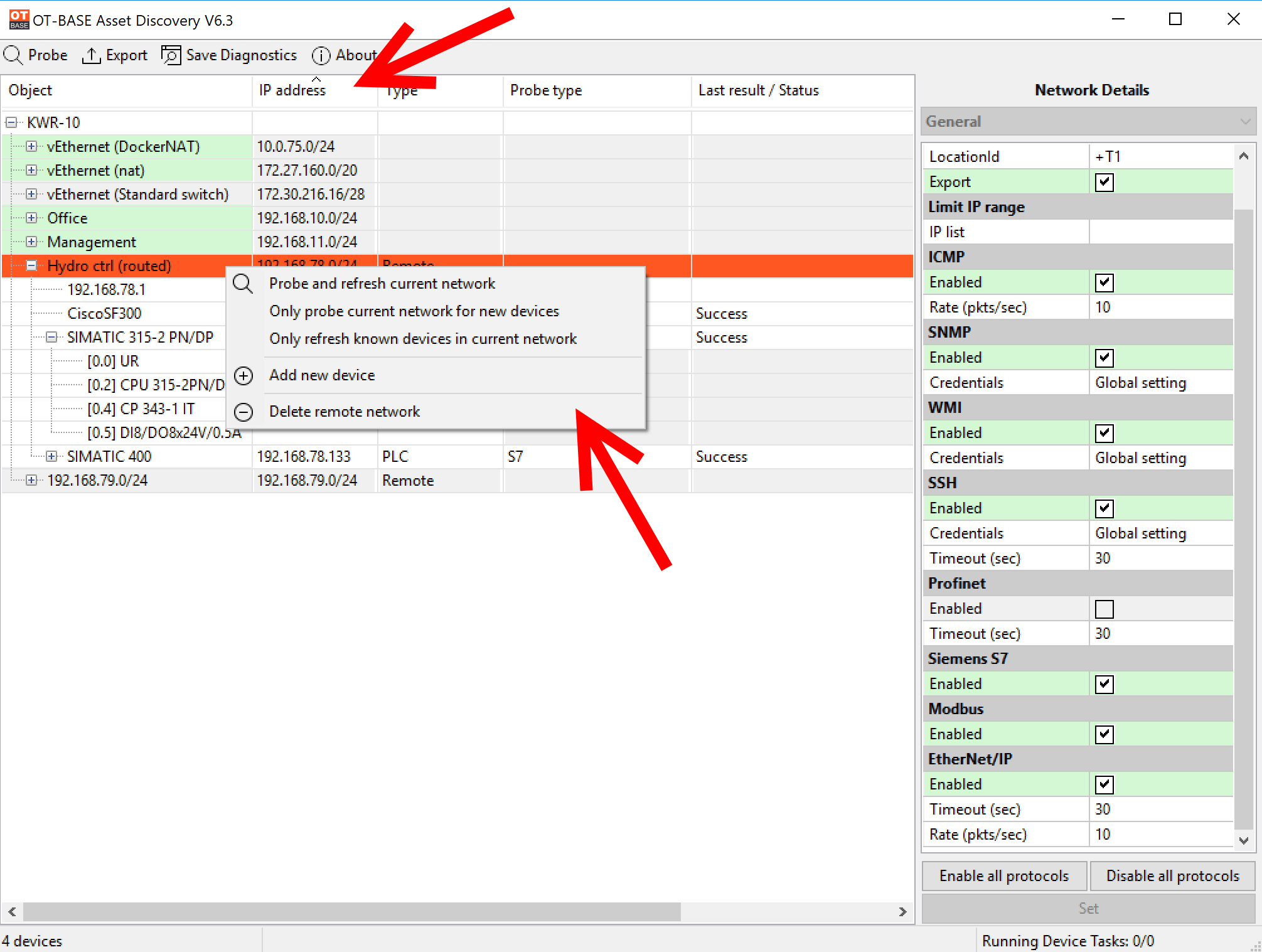 Ethernet/IP in the discovery table
If you are using Ethernet/IP, you may see additional layers in the discovery table, just like in RSLinx. In particular, you will see subnets "behind" communication adapters and gateways that you can route into for further discovery: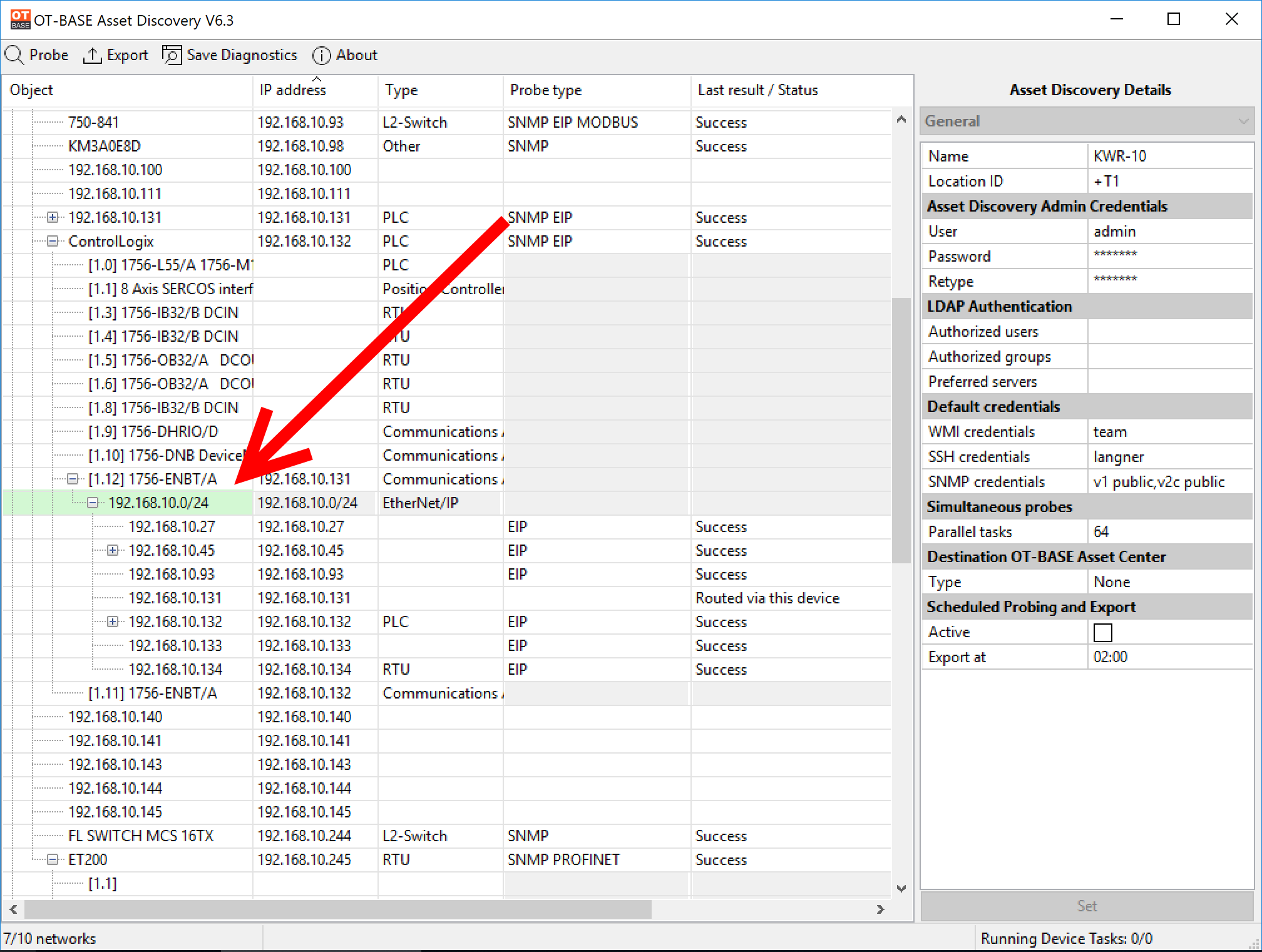 The details pane
The details pane shows configuration details for the object that you have selected in the discovery table. Depending on what that object is, you might see a drop-down menu that lets you navigate to additional configuration characteristics, such as software and connectivity.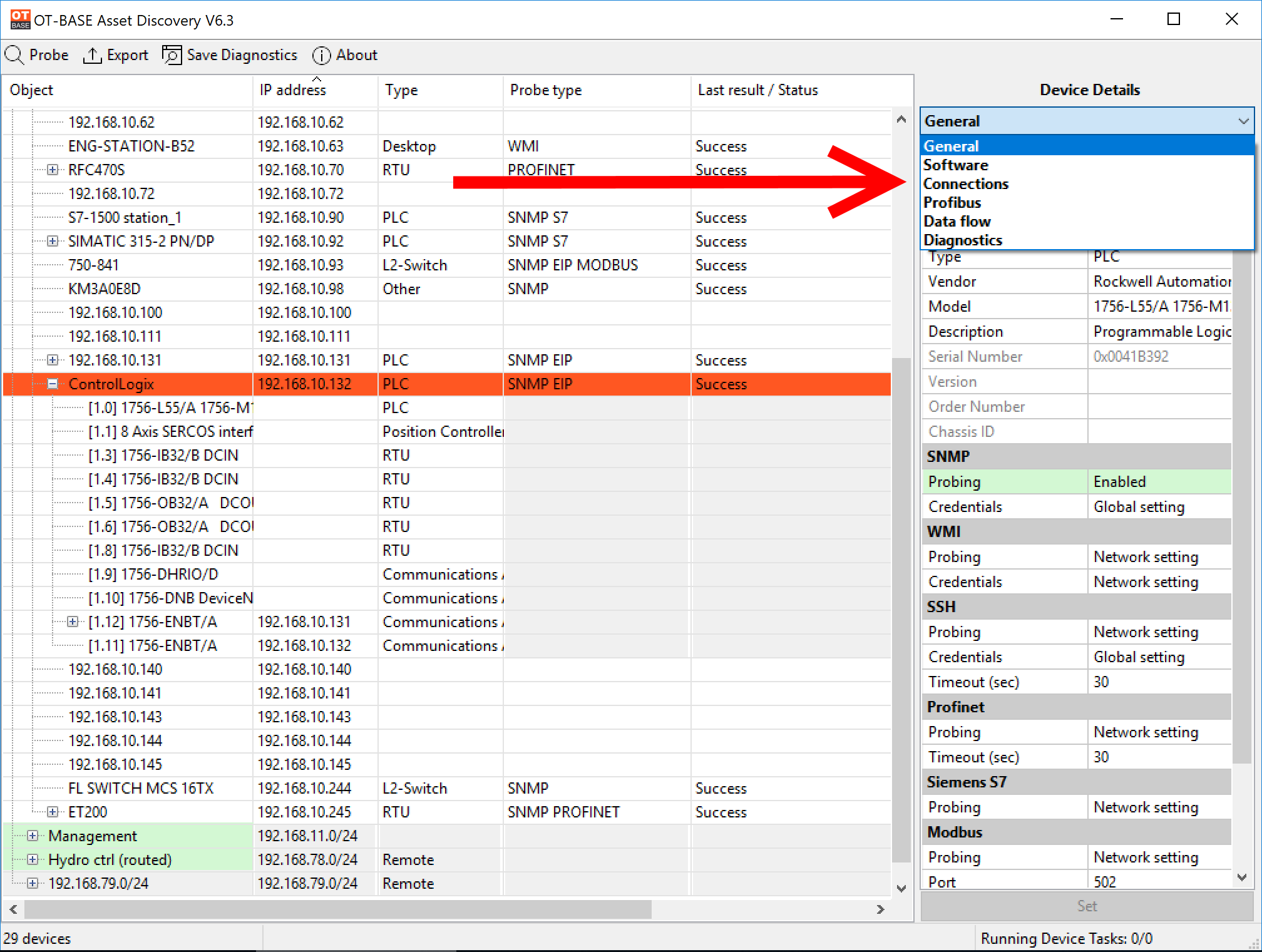 You can also edit some details in order to add context, such as location of specific networks and devices, and in order to fine-tune the probing. The important thing to remember is that after you are finished with your editing, don't forget to save the changes by clicking the "Set" button at the bottom of the detail pane.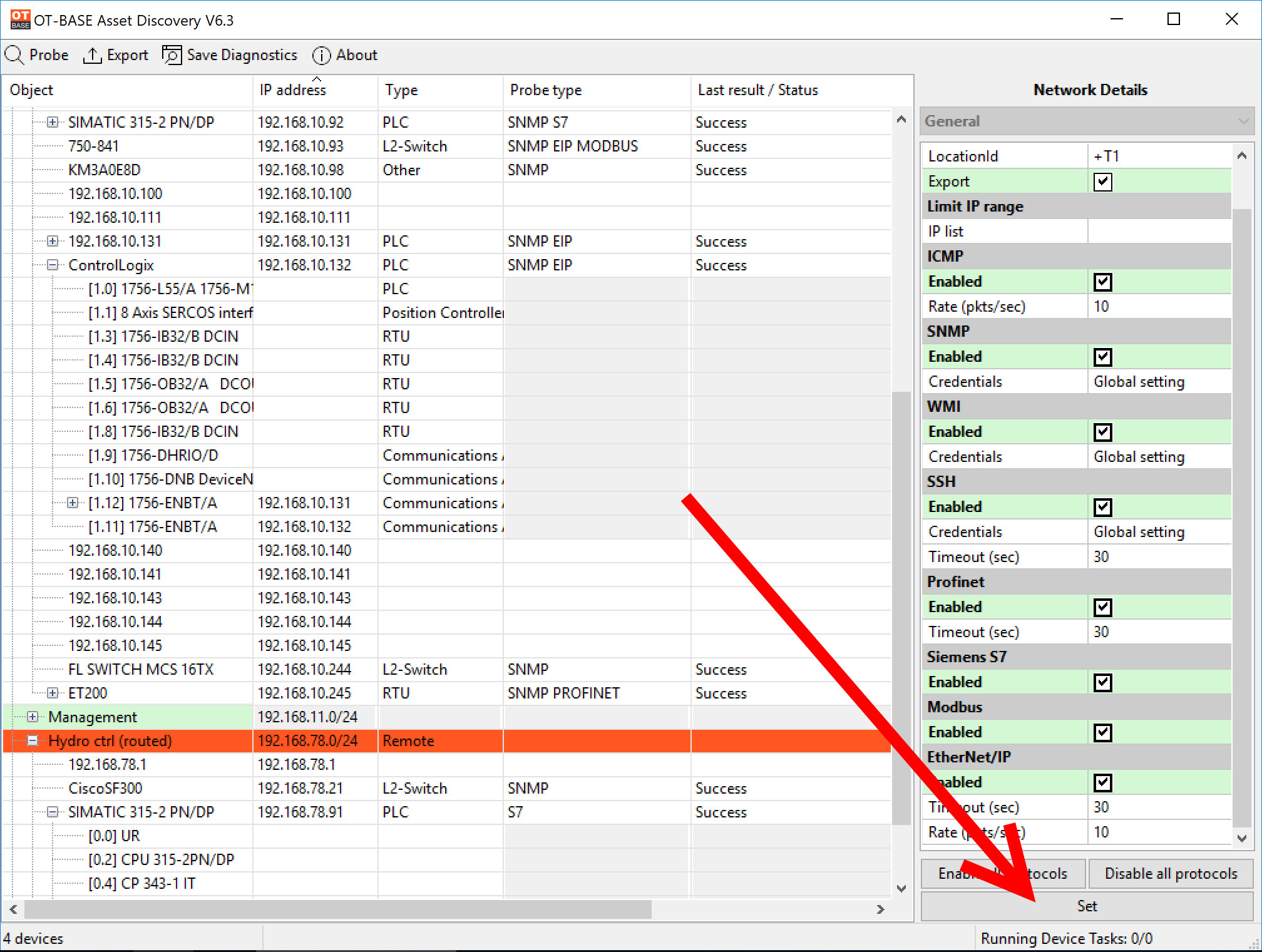 The main menu
The main menu at the top of the window allows you to manually start a probe, a data export to OT-BASE Asset Center, to save diagnostic data for inspection by Langner, and to display general information about your Asset Discovery software.