OT-BASE Asset Discovery is a product component that is installed independently from the OT-BASE Asset Center. Its purpose is to automatically discover the identity and configuration of your OT and IT devices. In order to do that, OT-BASE Asset Discovery is installed de-centrally in those networks that you want to discover and monitor. These networks don't even need to have online access to the OT-BASE Asset Center since data is passed as a file, supporting offline file transfer. This comes handy when standalone or "air-gapped" networks shall be discovered and monitored as well.
An OT-BASE Asset Discovery engine can discover and monitor multiple networks both locally and remote, however more than one Asset Discovery engine is usually installed. For example, different sites may (and should) all report to one central OT-BASE Asset Center. The number of Asset Discovery engines that you install completely depends on practicality and has no impact on license fees.
Product architecture
OT-BASE Asset Discovery itself consists of two components:
a Windows service that does the actual network probing
a Windows front-end application for configuring the service.
The service implementation makes sure that Asset Discovery continues running even when nobody is logged on to the computer on which the software executes, which is important because automatic transfer of asset data usually takes place at night.
The configuration front-end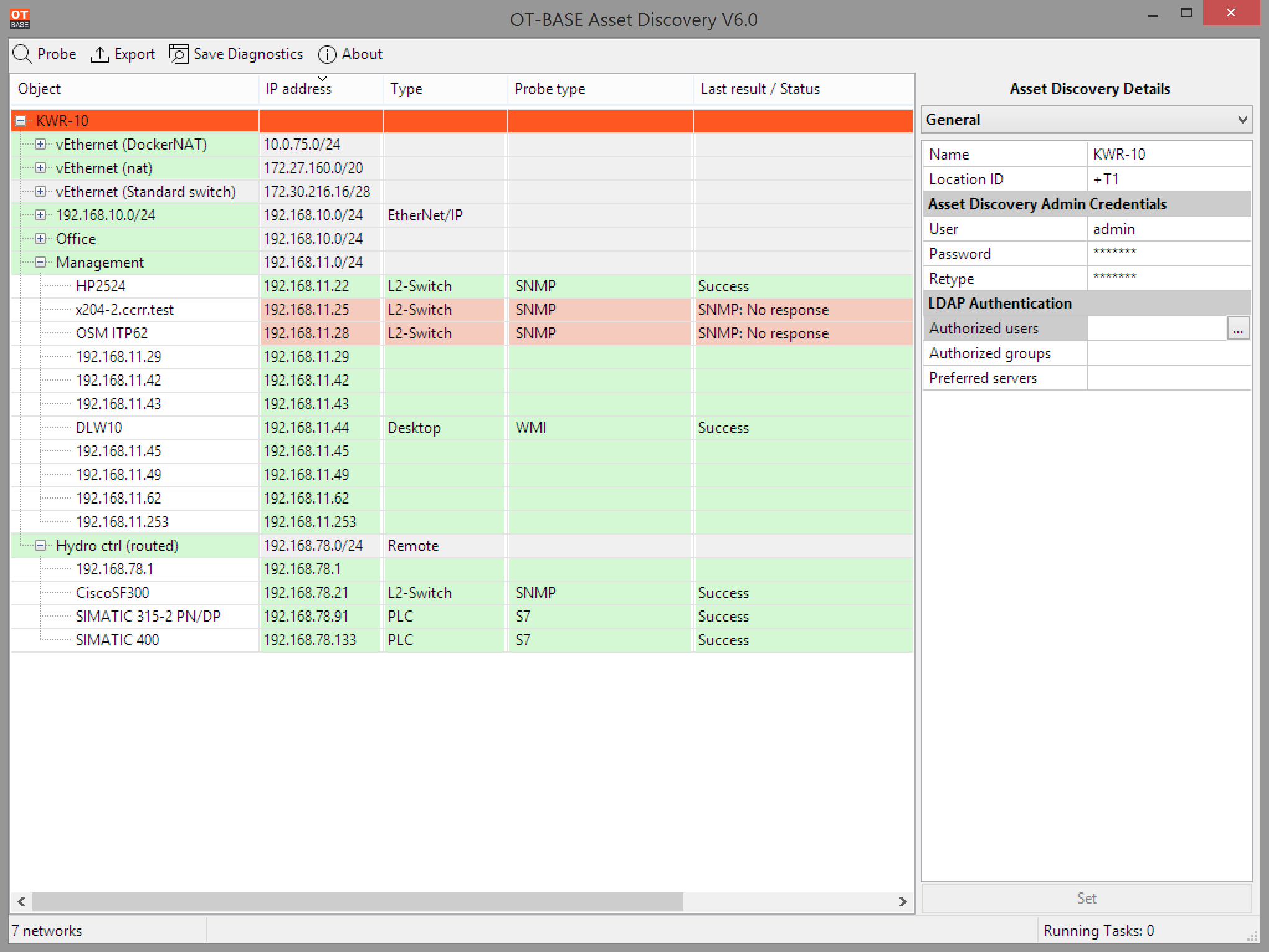 In production use, the front-end of OT-BASE Asset Discovery is usually used only during configuration of probing and export settings. Probing results are then processed in OT-BASE Asset Center, to where they are exported automatically.
If you are using the evaluation version of Asset Discovery, you can use the configuration front-end to check the validity of discovery results.
Centralized management application
If you are running dozens or hundreds of Asset Discovery nodes, managing each node individually by RDP'ing to the node's configuration client is not an option. This is where OT-BASE Discovery Manager comes in, the centralized management application for OT-BASE Asset Discovery.
REST API for programmatic orchestration
Besides OT-BASE Discovery Manager there is another means of changing the configuration of OT-BASE Asset Discovery nodes. You can do configuration changes programmatically via a REST API, which means that no admin has to sit in front of a computer screen and has to type in every single configuration change.