Automatic probes are executed by the Asset Discovery background process, no matter if you are logged on at the hosting machine or not. That's the normal mode of operation for OT-BASE Asset Discovery in production use; you will use manual probing only when setting up a new Asset Discovery node.
Activating automatic probing
In order to configure automatic probing, select the Asset Discovery node object. In the details pane, check the box in the "Active" field. In the field below, you can specify a time for scheduled probing. Note that the time is specified in 24-hour-format, so for example 3:00 p.m. would be entered as 15:00. Probing/exporting will be done every 24 hours.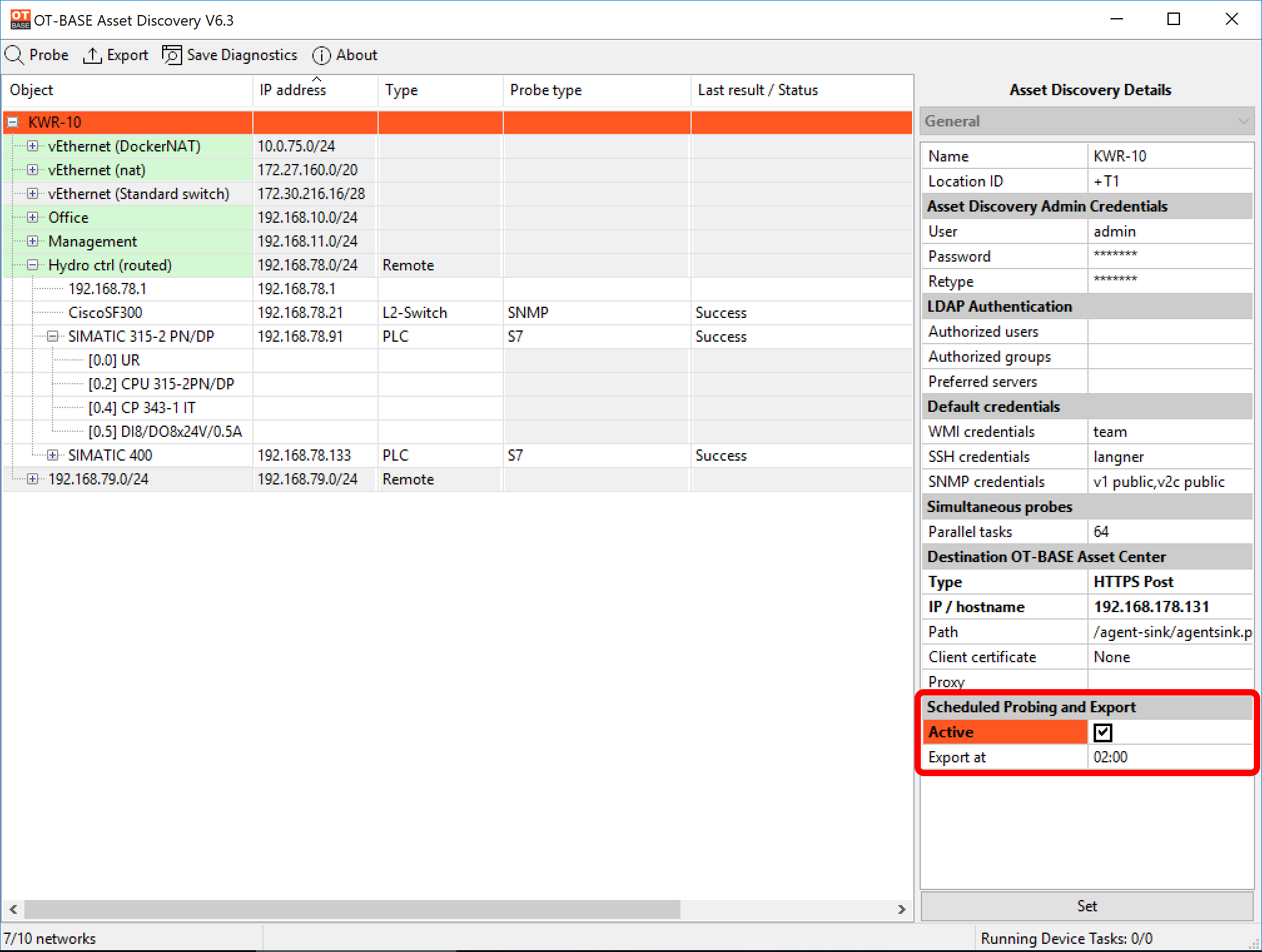 Data export to OT-BASE Asset Center
There are two ways how data can be exported to OT-BASE Asset Center: Online, and manually using files. Online export is the regular method of export because it is fully automated. Manual export is usually only used in the initial stages of an OT-BASE deployment when not all routes between Asset Discovery nodes and Asset Center are fully configured (taking into account firewall rules etc.).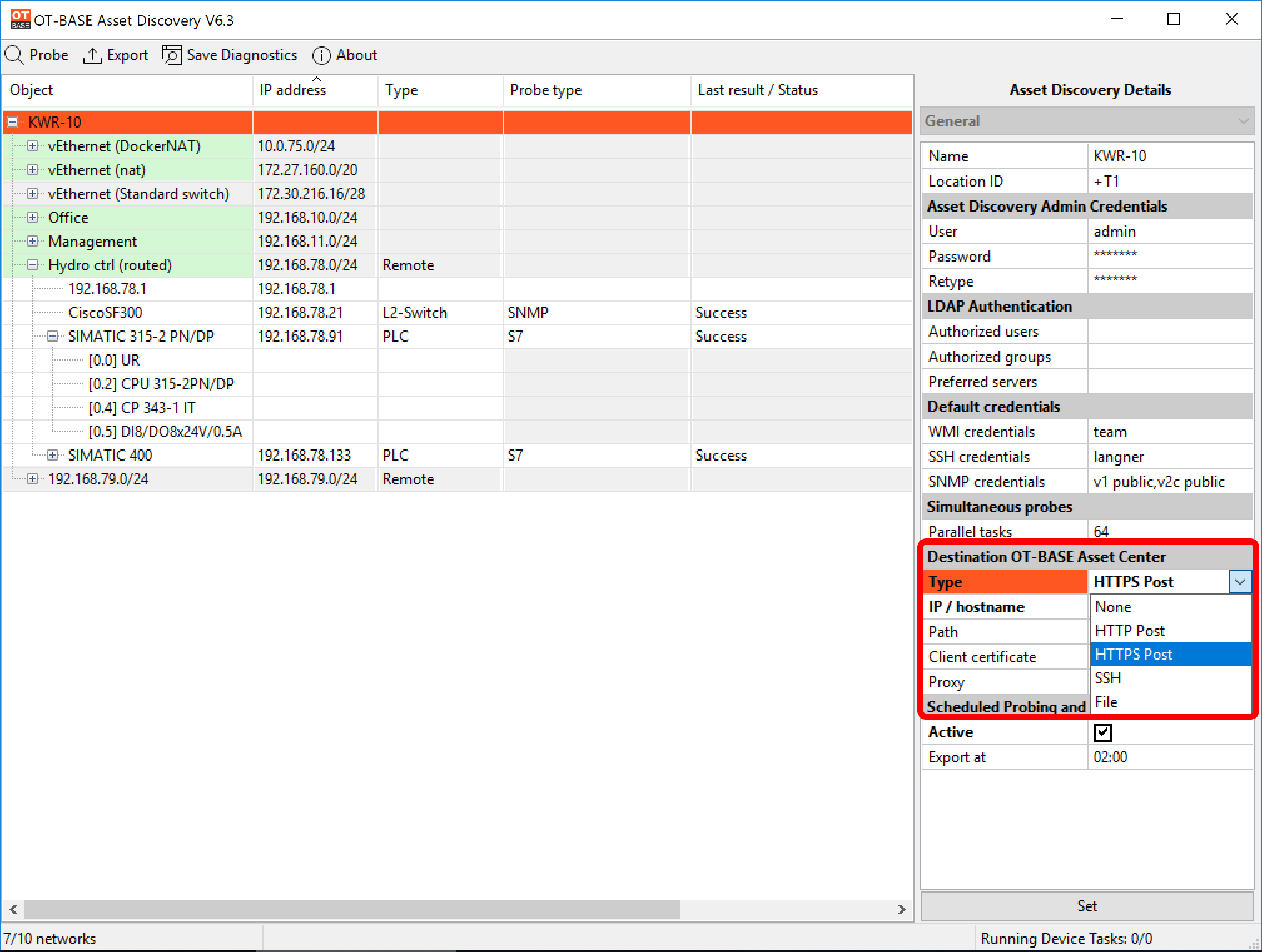 For online export, the following alternatives are available:
HTTP Post
Uses a direct online connection to Asset Center and the HTTP protocol (not recommended).
HTTPS Post
Uses a direct online connection to Asset Center and the HTTPS protocol (recommended).
SSH
Uses a direct online connection to Asset Center and the SSH protocol. This is usually only used if HTTPS cannot be used for whatever reason.
File
Copies discovery results to a file. This option is useful if there is no direct online connection to Asset Center, not even via a proxy, and you need to use a store-and-forward architecture to get discovery results to Asset Center.
For offline (manual) export, select "None" as the destination OT-BASE Asset Center. Then, in the main menu, choose "Export to file". After the file with discovery results is produced, you can then manually import to Asset Center by logging on and going to INVENTORY/IMPORT.
Whatever export option you chose, discovery results will always be encrypted, so you don't need to worry about confidentiality even when using non-encrypted transmission methods such as HTTP.
Check the "Export" box for every network that you want to probe
Automatic probing will only be done for networks that have their "Export" box checked. Therefore, select every network that you want to probe automatically and check the "Export" box in the network details pane under "General". Networks that are checked for export (and therefore also for automatic probing) will be shown in green in the object table.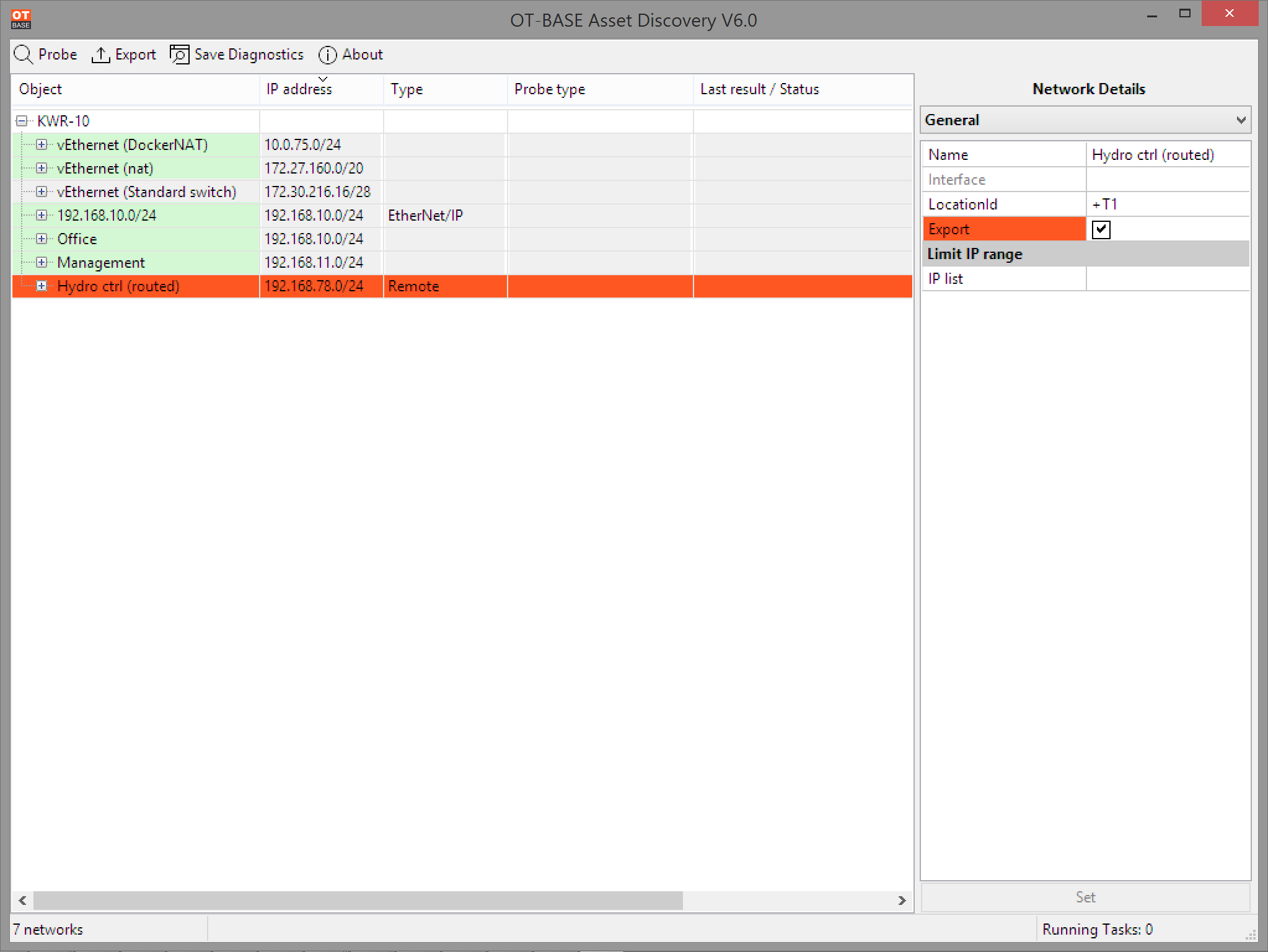 Note that you also have to explicitly check those networks for export that are "behind" communication adapters and gateways if you are using Ethernet/IP. In this case, you first expand the device or module that acts as the gateway and then select the routed network that you want to export.