OT-BASE Vantage is an analytical dashboard that allows you to explore key characteristics of your installed OT-BASE, in particular about its known vulnerabilities and its protective status.
OT-BASE Vantage is not integrated into OT-BASE Asset Center, but is an external standalone application. This design is by purpose at it allows you to do offline processing. For example, assume you are an OT security consultant. Using OT-BASE Vantage, you can analyse a client's security posture without having online access to their OT-BASE Asset Center, such as when sitting in an airplane, or waiting for one at the aiport.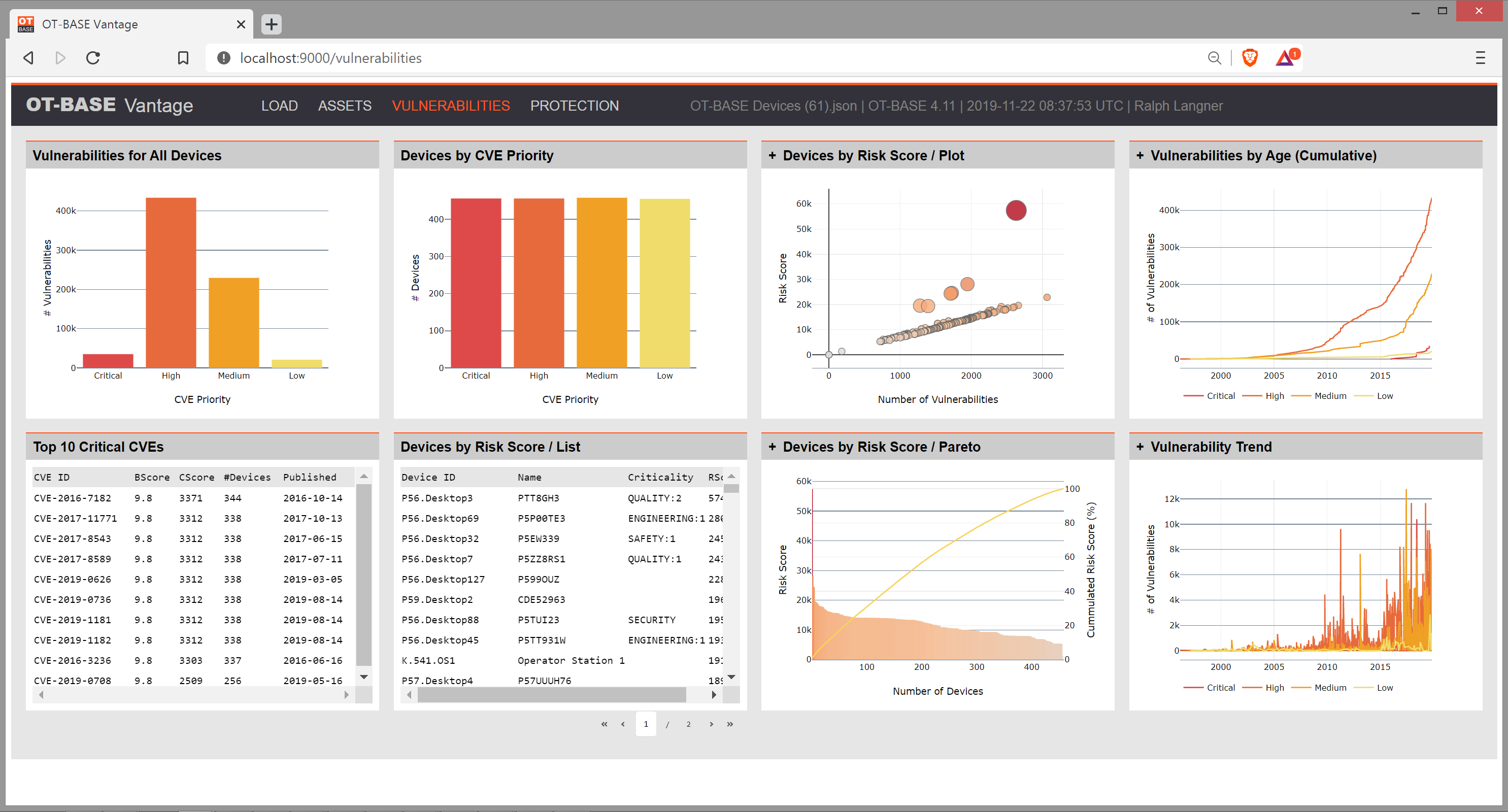 OT-BASE Vantage uses Portable Inventory Data (PID) files as input. You can generate these files in OT-BASE Asset Center with a simple mouse click in the device inventory. The additional benefit is that this way you can limit the scope to what you want to analyse in OT-BASE Vantage by using the filter mechanisms available in the device list, as only what you see in the list will be exported as a PID (JSON) file.
The simplified workflow for using OT-BASE Vantage therefore is:
Log on to OT-BASE Asset Center and go to INVENTORY/DEVICES.
Using the scope and filter functions, select the data set that you want to analyse with Vantage, and click on "JSON Export".
If you didn't produce the JSON/PID file from your own computer, copy it into your personal Downloads folder.
Start OT-BASE Vantage. This will launch a transient standalone HTTP server on your computer to which you can connect with your browser by using the URL "localhost:9000".
Select the PID file you want to analyse in the LOAD section, which automatically lists all the PID files in your personal Downloads folder.
Start analyzing.
Video
The OT-BASE Vantage dashboard is showcased in this video at the 19'33" mark.