OT-BASE Asset Center has a secial area for system administrators, and this area is only accessible if you log in as "admin". You can access the system maintenance area in the main menu via the MAINTENANCE item.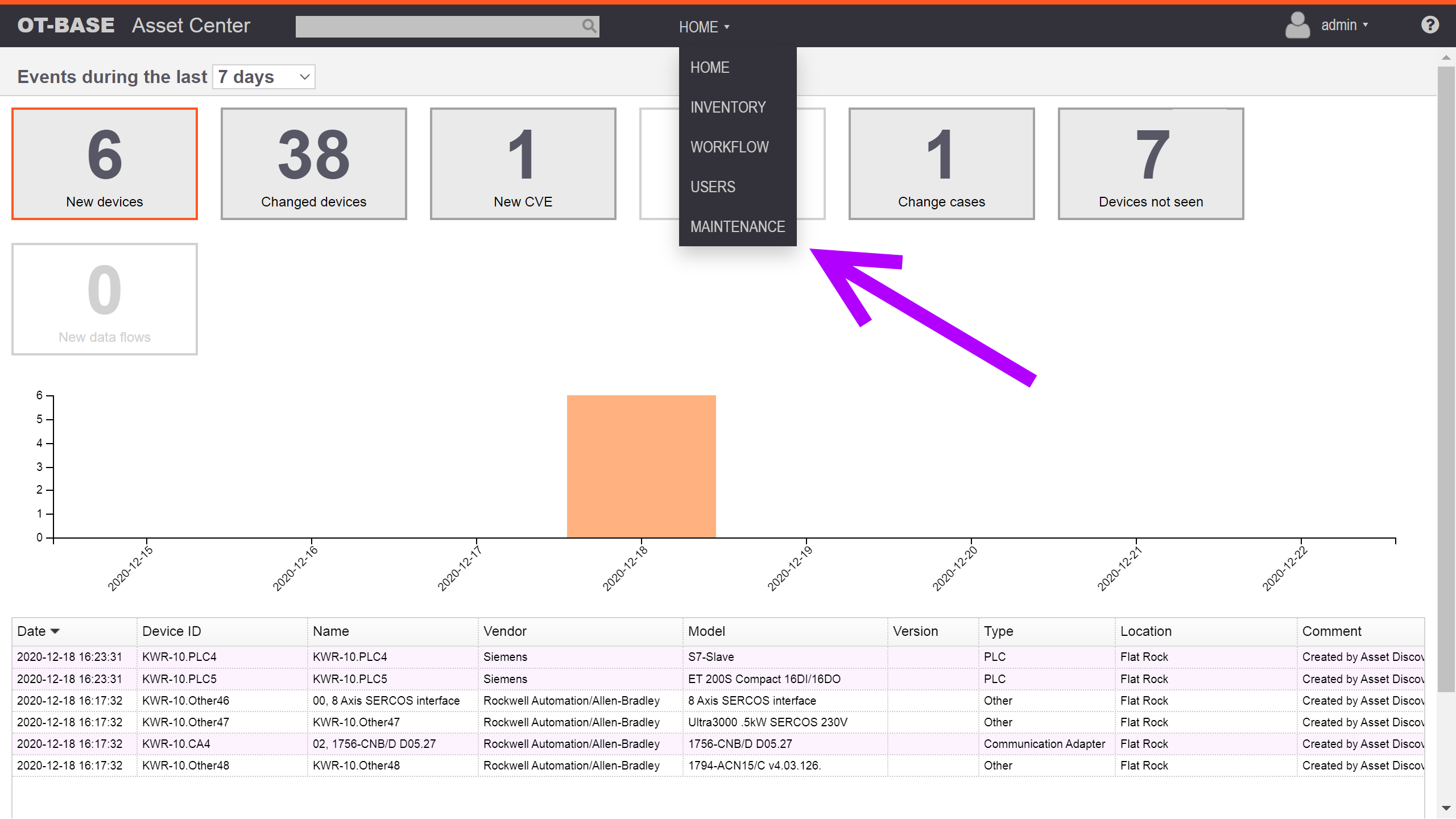 License management
One of the first things you need to do when commissioning a new OT-BASE Asset Center is to load the license key. This step needs to be repeated if you purchase a license extension.
In the maintenance section, click on the License tab.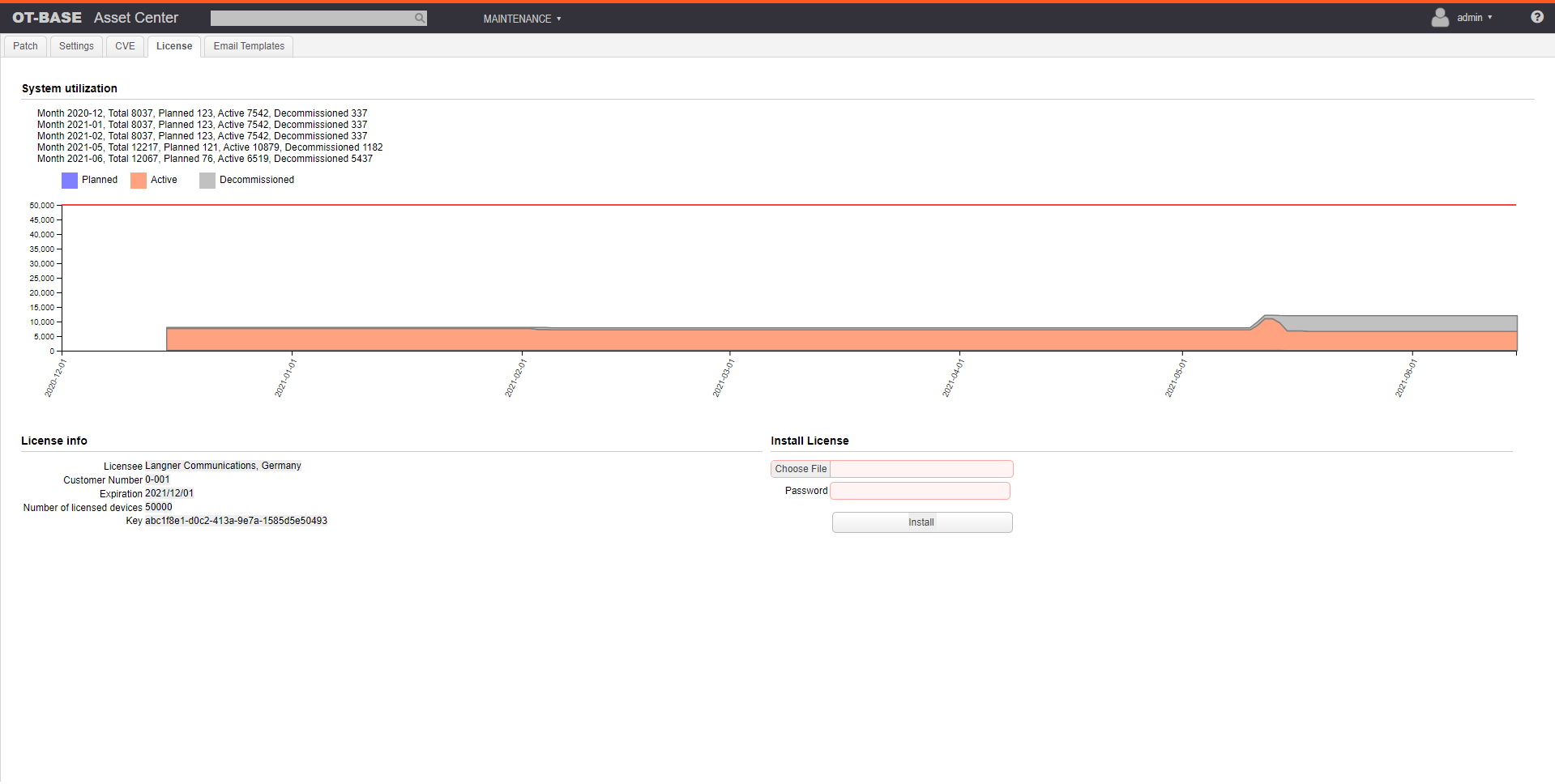 In this area you see information about system utilization as far as your licensing is concerned.
In order to install a license key, select the file holding the key (which you received from Langner) by clicking the "Choose File" button in the lower right area. Then enter the password that you have received along with the license file and click "Install". Your OT-BASE Asset Center is then ready to go.
Data on system utilization is split into the three different categories Planned, Active, and Decommissioned devices. If at some point in time you approach your license limit but have a substantial number of decommissioned devices in your database, you may consider removing these devices in order to free up license space.
Installing product patches
From time to time Langner issues product patches for small changes that don't warrant a complete container shipment. You can install these patches in the MAINTENANCE area when clicking on the Patch tab.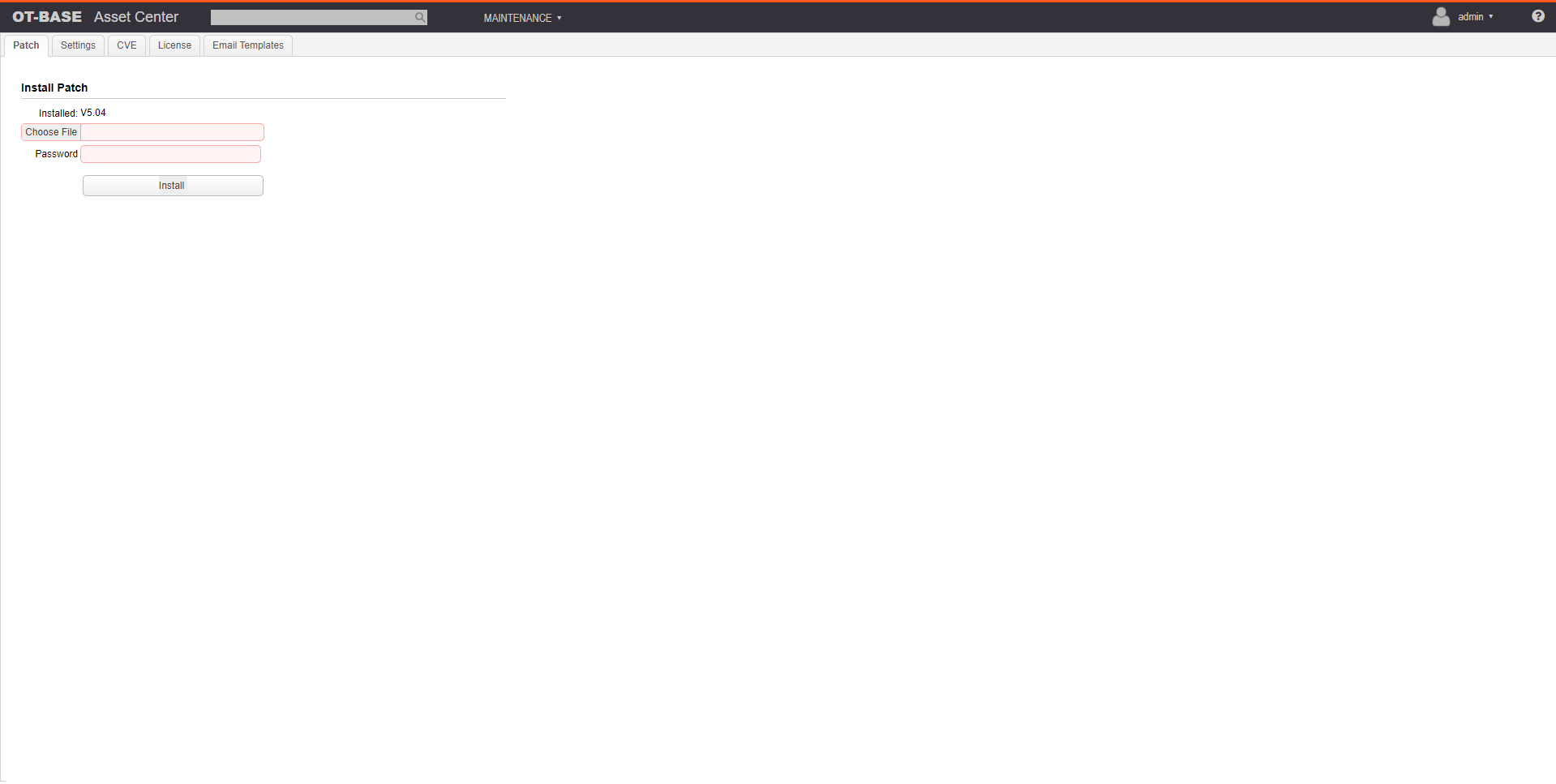 Enter the filename of the product patch and the password, then click Install -- that's it.
Configuring CVE auto import settings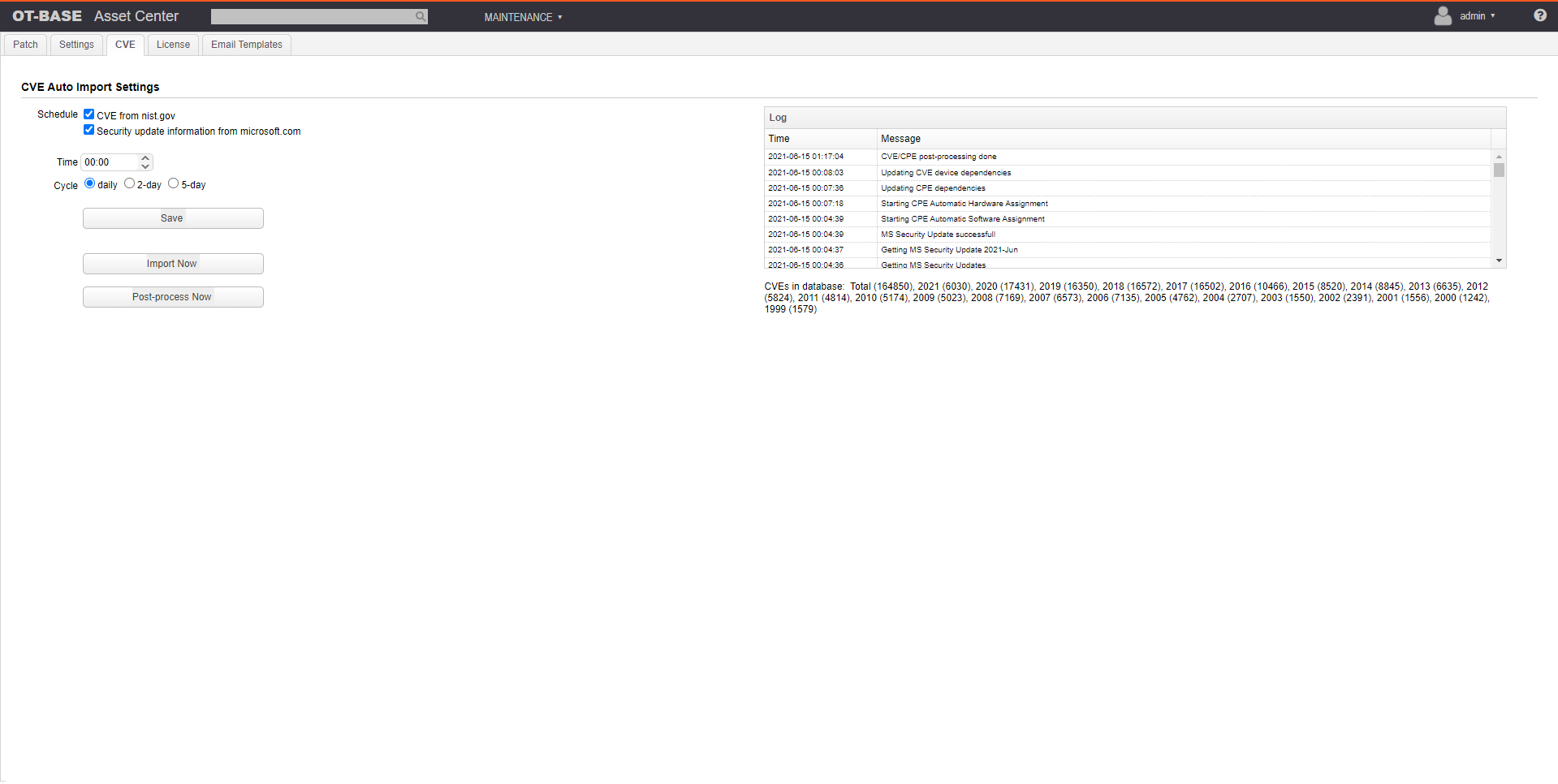 For automatic CVE downloads from NIST (recommended) you have to activate the download function and also specify a time of day as well as the desired download interval (daily, every other day, every five days). When you have made your selection click on Save to save your settings.
If you also check "Security update information from microsoft.com" OT-BASE will also download security patch data from Microsoft. This enables OT-BASE to determine if a particular vulnerability is already fixed for a given device.
Backup and restore
You can produce database backups and restore backups in the Backup tab.

The backup and restore process is documented in a dedicated knowledge base article.
Other settings
There are a couple of other settings that you can configure in the Settings tab.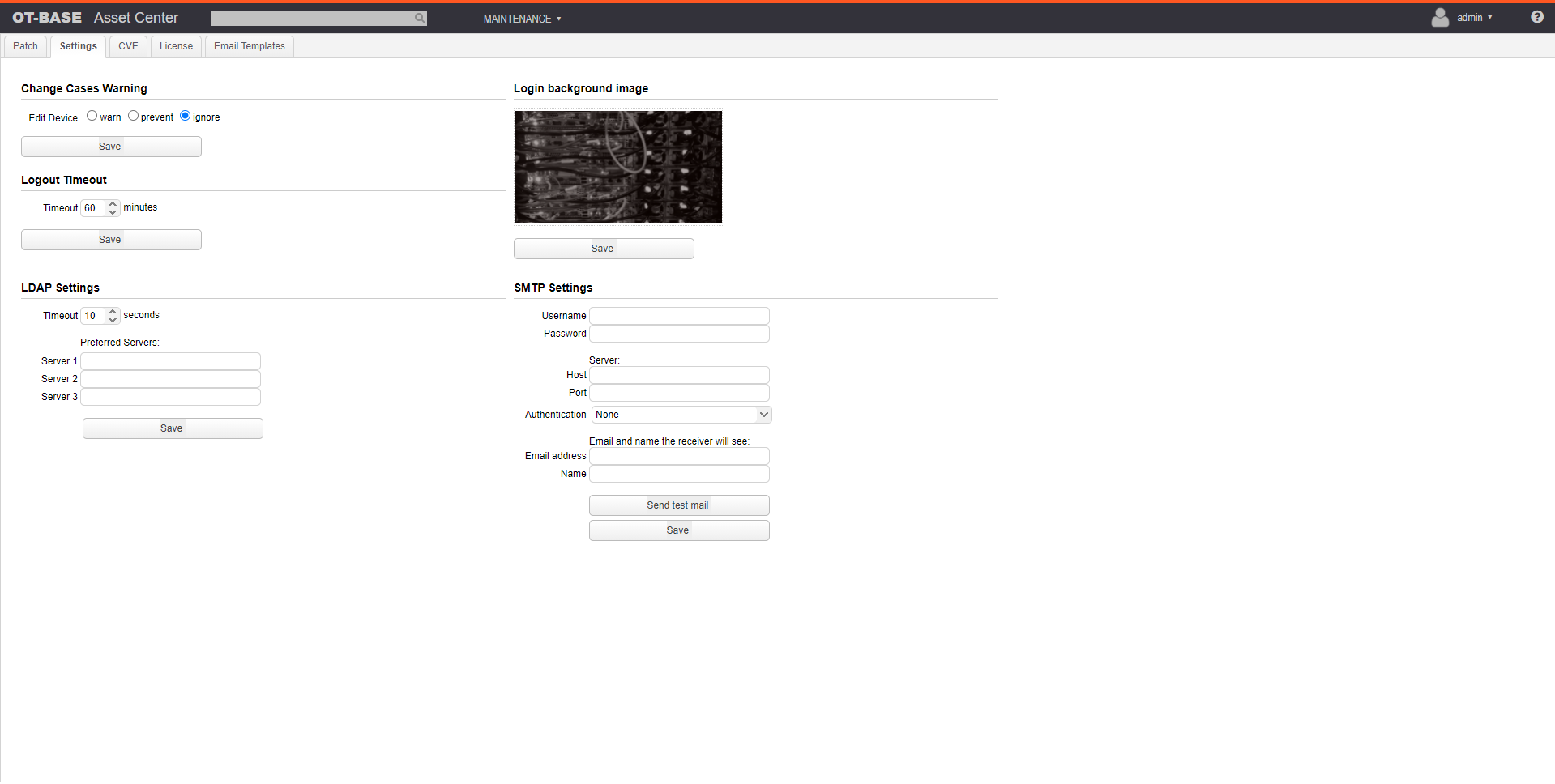 Change Cases Warning
The "Change Cases Warning" radio buttons determine if users will get a warning if they try to manually edit asset data for an asset that is not part of an open change case. If you don't want that warning, select "ignore". On the other hand, if you want to prevent users from manually changing asset data for assets for which there is no open change case, select "enforce".
Login background image
The "Login background image" allows you to set a wallpaper for the login screen, which may yield a better user experience, particularly if you use some corporate image from a production line, company headquarter etc. As a general advice, black and white images often look better than colored ones.
LDAP Settings
The "LDAP Settings" allow you to specify a timeout for connecting to an LDAP server. If your organization runs multiple LDAP servers, you may tell OT-BASE which servers to try first, in the interest of reducing login time for LDAP authentication.
Logout Timeout
The "Logout Timeout" is the general default value for the inactivity timer that OT-BASE keeps for session management. A user will automatically be logged off when there was no interaction for the duration of that timer. Note however that this default setting can be overwritten in the user management area.
SMTP Settings
The "SMTP Settings" allow you to configure the connection to your email server. For more information on email sending read "Setting up email notifications".