This section lists the steps necessary to install the OT-BASE Connector for Power BI:
Download the connector from the customer download portal
First you download the OT-BASE Connector for Power BI from the OT-BASE customer download portal. Note that you may only be able to see and download the connector after you have purchased a license.
Unzip the connector
The OT-BASE Connector for Power BI comes as a ZIP file. After unzipping the file, you will have a binary (.mez file) that can be digested by Power BI.
Move the connector to the right folder
In your Documents folder, create a new folder called "Power BI Desktop".
Within that folder, create a folder called "Custom Connectors".
Move the .mez file to this folder.
Configure connector validation
Open Power BI Desktop and go to File > Options and Settings > Options > Security. Under "Data Extensions" select "(Not Recommended) Allow any extension to load without validation or warning" and click "OK".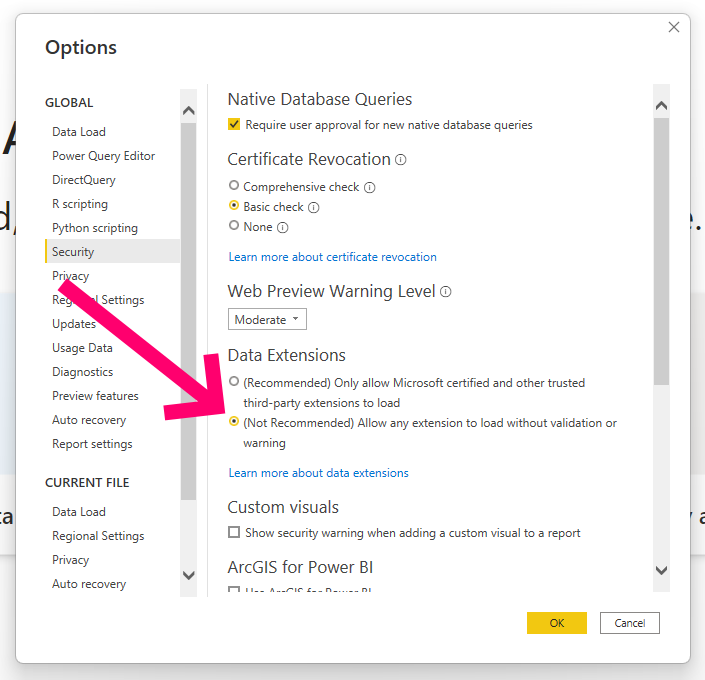 Restart Power BI
In order for the change to take effect you will need to restart Power BI.
Check/install SSL certificate validation
If you want to connect to OT-BASE using HTTPS (recommended), you need to install an SSL certificate to your Windows machine that is hosting Power BI that will allow Windows to validate the certificate of OT-BASE Asset Center.