OT-BASE comes with an integrated workflow for change mangement that allows you to plan and document configuration changes. It also assures that proper procedure for configuration changes is followed.
Required access rights
In order to access the change management workflow, you must be a member of a group with either Read or Read/Write access permission to change management. You will only be able to permit change cases (opened either by yourself or by other users) if the Permit Change checkbox is checked.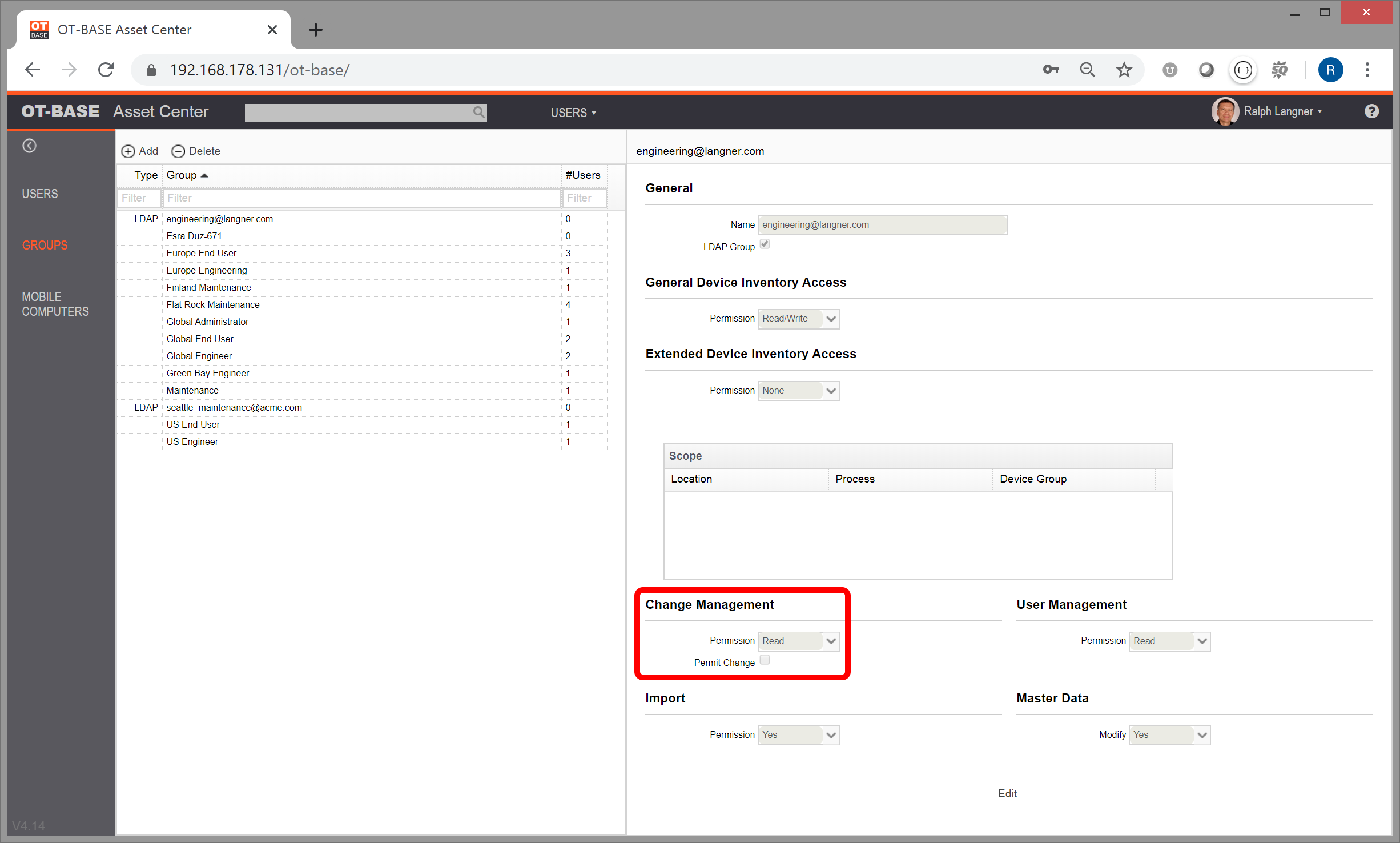 Opening a change case
To open a change case, go to WORKFLOW/CHANGES and click on Add. In the dialog box that pops up, you can set the characteristics of your change case.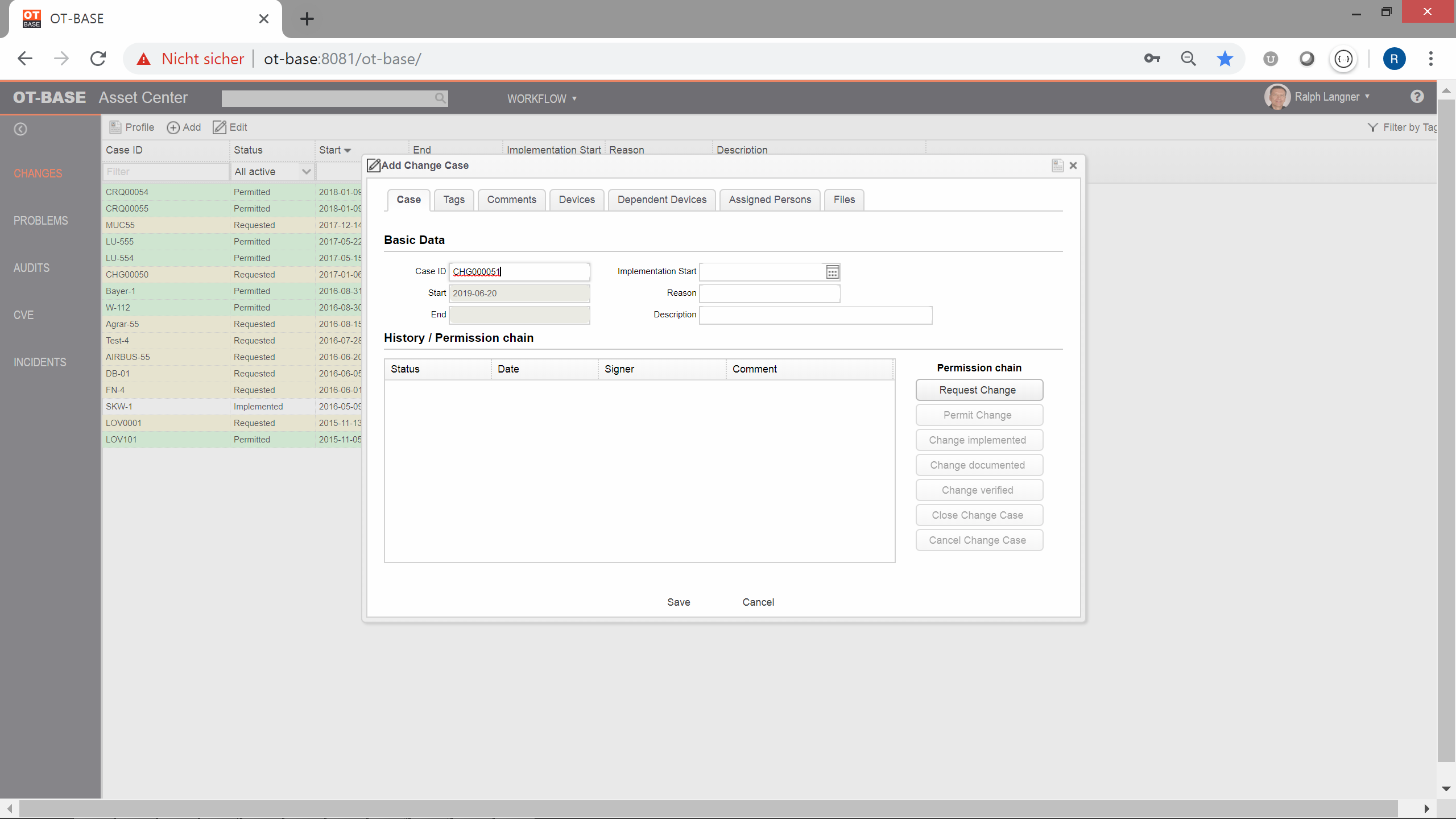 Every change case has a case ID. OT-BASE automatically assigns a unique ID to your change case, but you can overwrite the ID if you want to. Note that case IDs must be unique, so you cannot use a case ID that is already assigned to another change case.
The start and end fields are set automatically. If implementation start is different from the date when you open the change case, you can specify implementation start in the respective field right to the case ID.
The next two fields, Reason and Description, are used to briefly identify the reason for the change, along with a description. While these fields are not mandatory, it is good practice to use them as they will be displayed in the change case table. Using these fields will help you and others to navigate the table much easier.
You can assign user-defined tags to a change case and also provide verbose comments in the respective tabs.
In the Devices tab, specify the devices that are part of this change case. Clicking on Add will open a device listing similar to the device inventory that you can filter and sort. Select one or more device using the mouse with the Shift or Ctrl button and then click Add selected.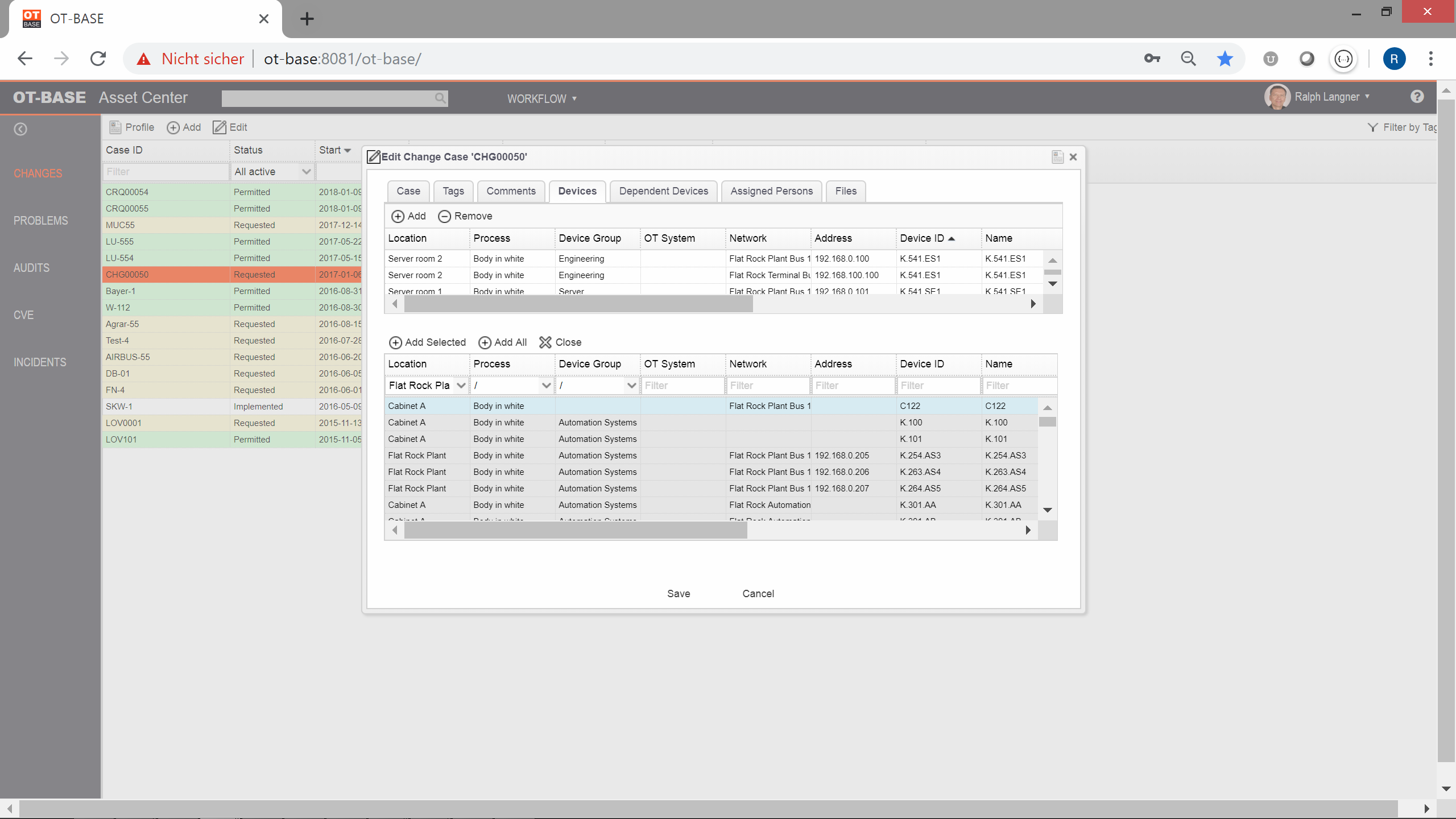 In the Assigned Persons tab, select the users that are assigned to this change case.
The tab Dependent Devices shows devices that might be affected by the change because one or more devices which are part of the change case send data to these devices. This listing is created automatically by OT-BASE, based on the authorized (intended) data flow relationships. It informs you about potential side effects of your configuration change. Note that the table will be empty if no authorized data flow has been defined for the devices that are part of the change case.
When you are done with all initial settings, go back to the Case tab and click on Request Change. If you are a member of a role which is authorized to permit changes, you may also click on Permit Change. Save the change request by clicking the Save button.
The change case profile
The most convenient way to explore change cases is to use the change case profile. It can be launched by selecting a change case in the change case table and then clicking on Profile.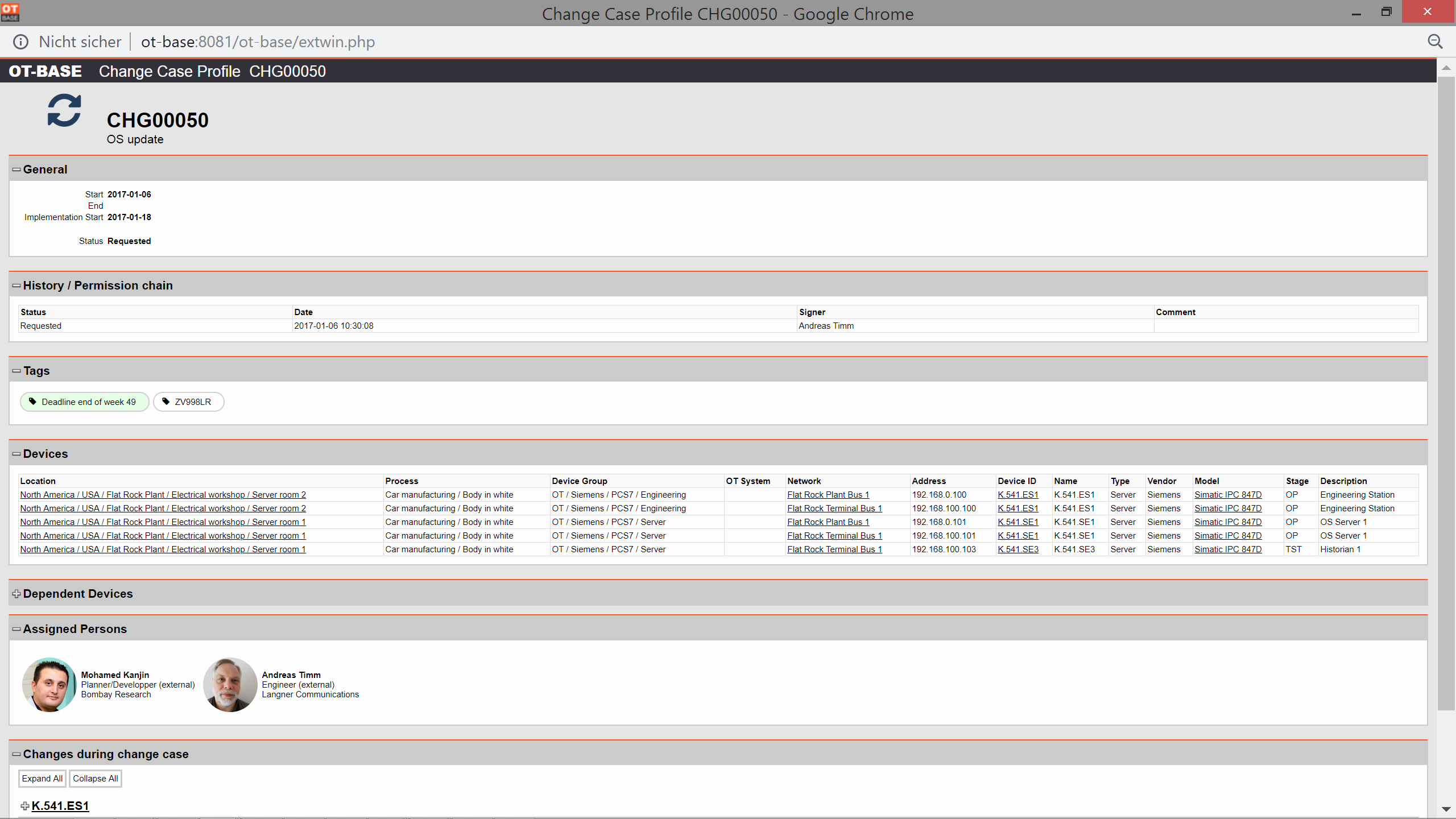 A change case profile lists all information associated with the change case in a similar format as you know it from device profiles.
In the lower section you can access an account of all configuration changes of the devices that are part of the change cases that have been performed after the change case was opened.
Effects of change management on editing device information, on the device timeline and on incidents
If you open a device in the Device Inventory in Edit mode, you will notice that a warning pops up if that device is not part of an active change case. The same warning will pop up once more if you try to save your changes. For devices that are not part of an open change case, these warnings will not show.
Any configuration changes logged in a device's timeline (in the lower part of the device profile) that occured as part of a change case will be listed with white background color. Changes that have been performed for devices which were not part of an open change case will be logged in yellow if the change was done manually, via JSON import or via the REST API. They will be logged in orange if the change was detected automatically by OT-BASE Asset Discovery. The latter case will also trigger an incident.