Understanding change management in OTbase
OTbase comes with an integrated workflow for change mangement that allows you to plan configuration changes, and document those plans and their execution. It also assures that proper procedure for configuration changes is followed.
Change management is sometimes confused with being able to track configuration changes, which you can also do in Asset Center. For example, when you go to HOME and click on "Changed devices", you will see a list of all devices for which a configuration change was detected in the last 24 hours, 7 days, or 30 days.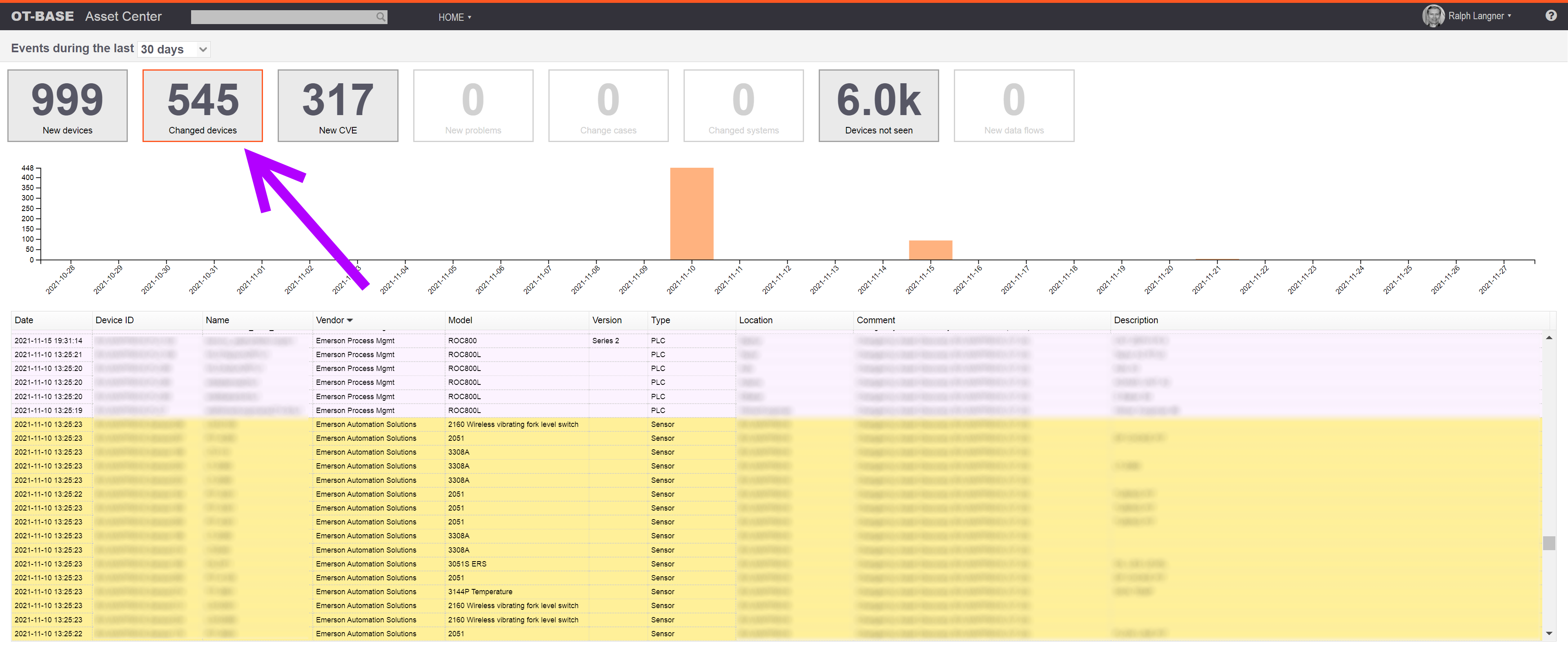 Double-clicking on any item in the list will launch the device profile of the respective device, where you can examine changes in the device's timeline.
Change management is different from just inspecting changes (or being notified of changes via email notifications) as the "management" part involves planning and an authorization chain.
Required access rights
In order to access the change management workflow, you must be a member of a group with either Read or Read/Write access permission to change management. You will only be able to permit change cases (opened either by yourself or by other users) if the Permit Change checkbox is checked.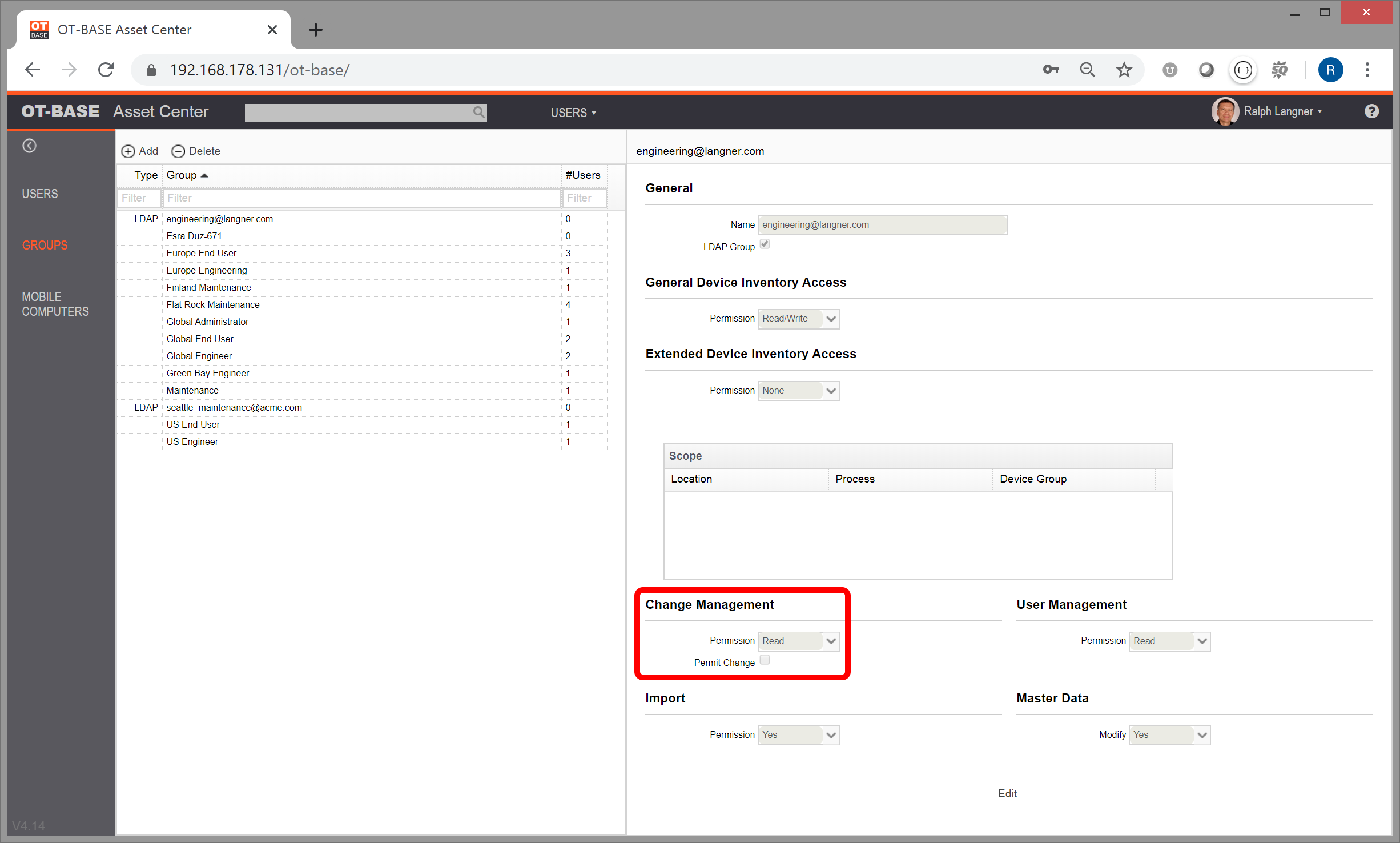 Effects of change management on editing device information, and on the device timeline
By default OTbase Asset Center will pop up a warning when you open a device in the Device Inventory in Edit mode if that device is not part of an active change case. The same warning will pop up once more if you try to save your changes. For devices that are not part of an open change case, these warnings will not show.
You can change this behavior in the MAINTENANCE area by setting the change case warnings to "ignore". Setting the warnings to "prevent" will result in users not being able to make changes to a device without an open and approved change case.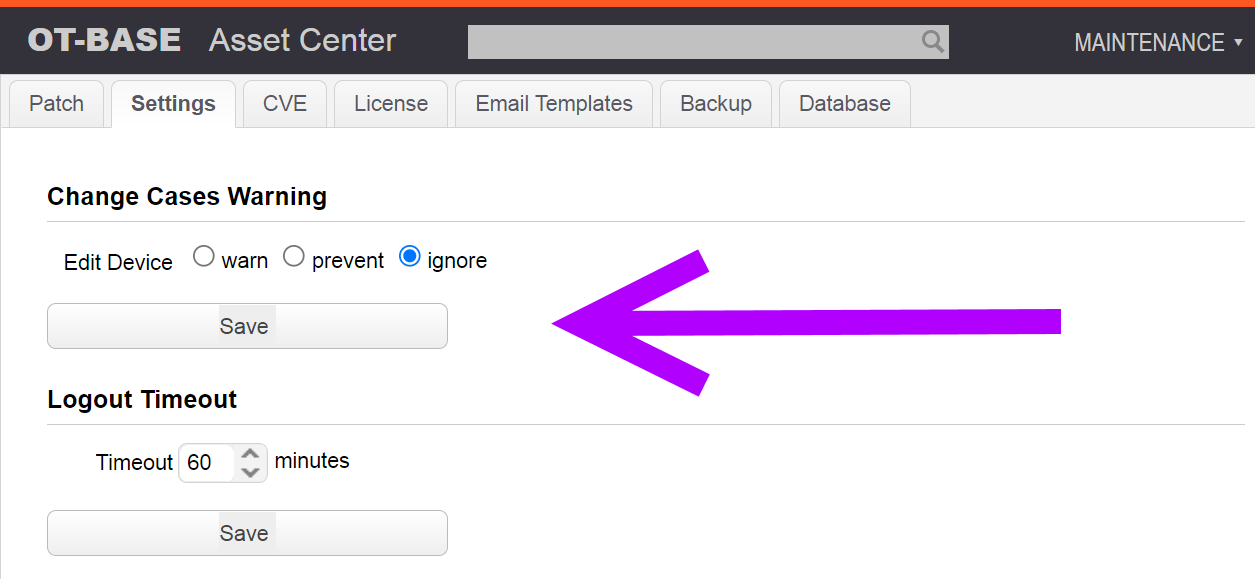 Any configuration changes logged in a device's timeline (in the lower part of the device profile) that occured as part of a change case will be listed with white background color. Changes that have been performed for devices which were not part of an open change case will be logged in yellow if the change was done manually, via JSON import or via the REST API. They will be logged in orange if the change was detected automatically by OTbase Asset Discovery.
Change case information in device profiles
If a device is part of an open change case, you will find a section "Change Cases" in the device profile where all open change cases are listed. From there you can open the change case profile by clicking on the case ID.